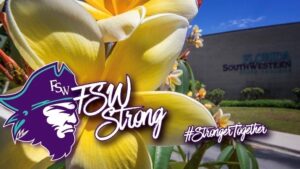 FSW Stronger Together
As we transition into a new economic reality, it's clear that higher education is essential. With 33 million people now furloughed or unemployed, teaching and training are critical for our southwest Florida community's recovery and growth.
With FSW's 58-year commitment to provide accessible education to all, we remain strong.
Fortunately, federal funding, such as the CARES Act, will help eligible students who are facing financial hardships. For students who are not eligible, or eligible and now unemployed, this causes greater need for aid. Your support becomes increasingly vital in helping FSW fulfill funding gaps.
Meeting student's financial needs and developing new programming with supportive infrastructure becomes even more critical for FSW as we work as an economic first responder. Certificates, advanced industry knowledge, and expanded critical thinking are necessary skills in the emerging complex workforce of southwest Florida.
Your gift of any amount makes a difference. With your support, together, we can help anyone access learning, achieve and recover, while helping strengthen all of southwest Florida.
As a registered charity with AmazonSmile, FSW Foundation receives a donation when you purchase through the following link: https://smile.amazon.com/ch/59-6173638. Be sure to select Florida SouthWestern State College Foundation, Inc. as your charity of choice. THANK YOU!!
Will Your Employer Match Your Gift?