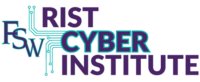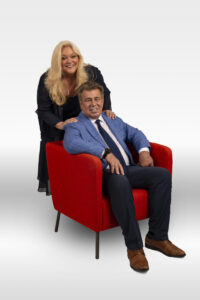 Brian & Kim Rist
Rist Family Foundation
FSW Cybersecurity Program Supported by Rist Family Foundation's
More than $2.5 Million Commitment
As part of a more than $2.5 million commitment from Brian and Kim Rist and the Rist Family Foundation, Florida SouthWestern State College's (FSW) School of Business and Technology has established the "Rist Cyber Institute."
Funds will be used to provide enhancements to the Cybersecurity program including equipment, technology and additional instructional staff. Additionally, the Rist Cyber Institute will house two new computer labs, a hardware/software lab, a maker space for students to experience new technology, and a high-tech Cyber Room.
According to the Bureau of Labor Statistics, the cybersecurity industry is expected to grow 33% between 2020 and 2030, and Cyberseek.org reports there are currently approximately 21,000 open cybersecurity jobs in Florida, with the total current employed workforce at 47,800.
"The Cybersecurity program at FSW will increase the skill level of students entering the ever-growing cybersecurity workforce in Southwest Florida," said Dr. Mary Myers, dean, FSW School of Business and Technology. "It will also give FSW an opportunity to offer continuing education for IT practitioners in the field. With thoughtful course development and program planning, the landscape of cybersecurity will change for the better."
"It is my and Kim's honor to be a part of the growing innovative programs at FSW," said Brian Rist. "We feel the need to support programs like the Cybersecurity program. It gives young adults the opportunity to use their specialized skill sets that aren't typical in other programs offered. Our hopes are for these students to stay local and be beneficial to the Southwest Florida community. As I always say, let's try to improve ourselves to help make this world a better place."
Through these contributions, the Rist Family Foundation also supports FSW's Respiratory Care program and named "The Rist Family Foundation Respiratory Laboratory and Classroom" in 2021.
"The support of generous donors like Brian Rist and the Rist Family Foundation have allowed FSW to expand and serve the Southwest Florida community and workforce over the last 60 years," said Dr. Jeff Allbritten, FSW president. "As the world continues to change and the skills and technology needed to keep up with these changes continue to evolve, it will be these generous FSW supporters who will continue to help us provide the world-class learning environment that our local workforce needs."
FSW School of Health Professions Receives $300,000 Donation from Shady Rest Foundation
Florida SouthWestern State College's (FSW) School of Health Professions has received a $300,000 donation from the Shady Rest Foundation. The funds will be used to create scholarships for FSW School of Health Professions students.
The $300,000 donation will be split into three scholarship designations: $100,000 will create immediate scholarships for FSW RN to BSN nursing students; $100,000 will be used to create permanently endowed scholarships for future FSW RN to BSN nursing students; and $100,000 will be used to create permanently endowed scholarships for all degree-seeking students in FSW's School of Health Professions.
"The Shady Rest Foundation feels an obligation to assist in the care to the elder population of Lee County," said Robert Murray, president, Shady Rest Foundation. "The nursing and health care programs provided by FSW will continue to deliver qualified nursing candidates to our local workforce and this will help support the elder care needs. If our Foundation can assist these candidates to lessen the financial burden and encourage a few to go further with their education and career, maybe we can help make a difference!"
"We appreciate the Shady Rest Foundation's commitment to elevating opportunities for FSW students who are pursuing health care professions," said Dr. Jeff Allbritten, president, FSW. "Scholarships like these truly change the lives of our students and help FSW continue to serve the Southwest Florida community and workforce as we have over the last 60 years."
About The Shady Rest Foundation: The mission of the Shady Rest Foundation is to provide financial support to organizations in the community dedicated to providing education and wellness services benefitting older adults. We believe that advances in learning and increased access to services will improve the health and safety of older adults.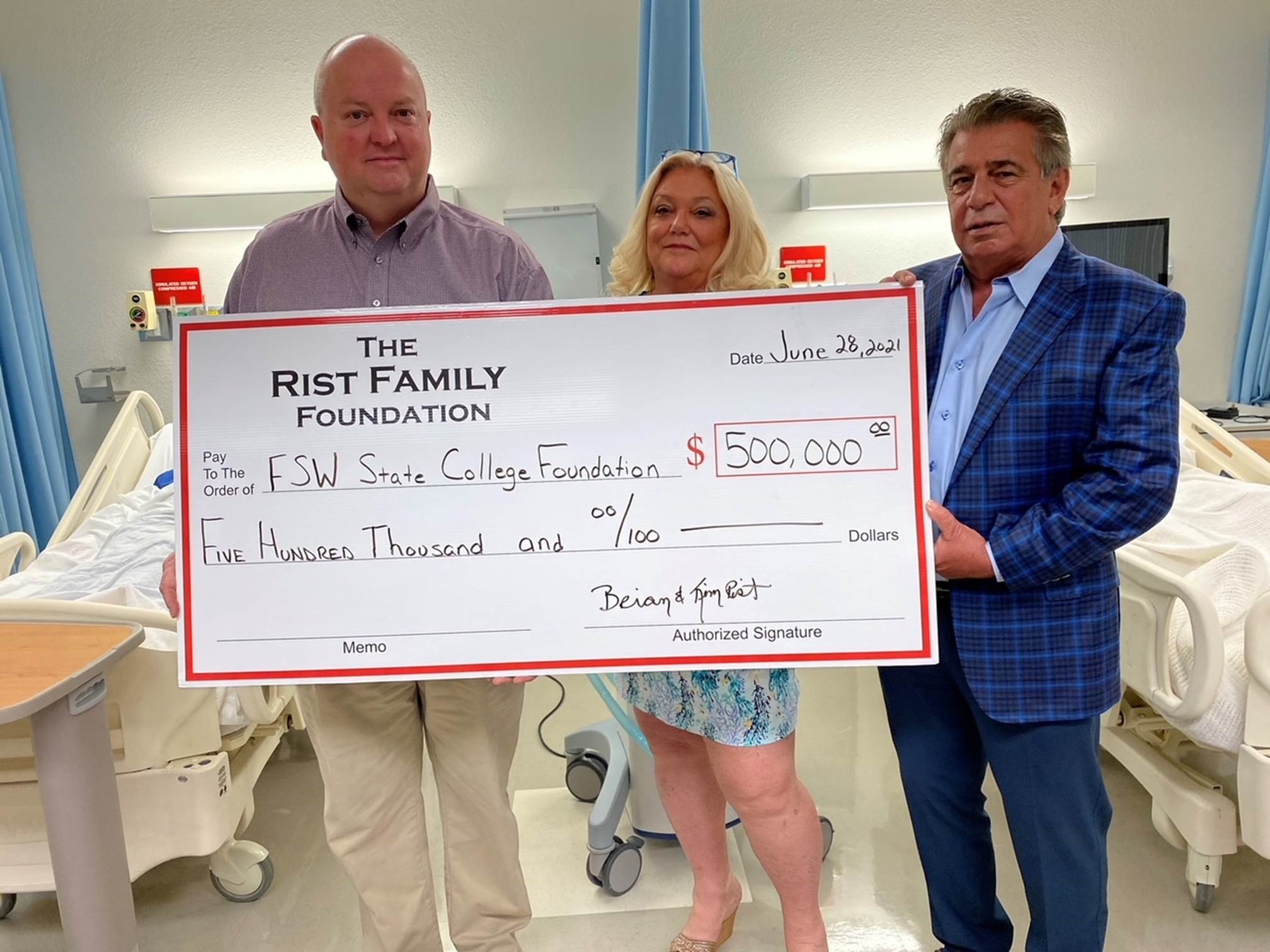 Brian & Kim Rist
Rist Family Foundation
FSW Respiratory Care Program Receives $500,000 Donation
Florida SouthWestern State College's (FSW) Respiratory Care program has received a $500,000 donation from Brian and Kim Rist and the Rist Family Foundation. The funds will be used to provide enhancements to the program including equipment, technology and additional instructional staff. The FSW respiratory care lab and classroom will be named "The Rist Family Foundation Respiratory Laboratory and Classroom."