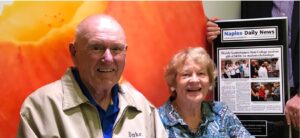 Click here to hear about Karl and Alice Sheffield's generous donation and how it impacts FSW nursing students.
Scholarships
FSW State College manages donations that are used to assist thousands of students realize their goals for higher education. Over the past five years, almost $8 million in scholarships have been awarded to deserving students. Members of our Faculty and Staff also support students through our Dedicate to Graduate Scholarship.
Options
There are a variety of ways for your generosity to impact students. Some options include:
Donate for current year scholarships. Donations made in this way will be used immediately or in the upcoming semester to assist as many students as possible.

Create an endowed fund. Only the interest earned on your donation will be used for funding scholarships. This allows the original donation to be kept intact indefinitely, making it possible to fund scholarships in perpetuity. We will endow a fund once it reaches $50,000.

Donate to an already established endowed fund. We have many different endowed funds that are designated for various purposes, programs, and students. View the list of our current endowed funds, or call us at 239-489-9210 to discuss how you want to make an impact!
Become a member of our Legacy Society – Leave your lasting legacy at FSW by naming FSW Foundation as a beneficiary in your estate plan, will, retirement account, insurance policy, or trust.
Impacts
As stated by some of FSW's grateful scholarship recipients, the generosity of our donors have a profound impact on our students, our community, and our world…
"I am attending college for a degree in Accounting and contributions like yours are what make my goals and dreams come true…I look forward to the future when I will be in a position to help others reach their educational goals and dreams."
"Your generosity has allowed me to be one step closer to my teaching career and I am humbled by the recognition."
"You have named this scholarship after a very important person in your family. I hope that through my hard work and dedication, their legacy is truly honored."
Setting up a scholarship at FSW is easy and we are happy to guide you through the process. Please contact the Foundation office at foundation@fsw.edu, or call 239-489-9210.